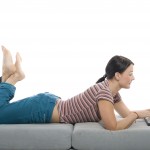 Writing Process Blog Tour for Twitter #MondayBlogs
By
Tracy Shawn, MA
Author of award-winning novel The Grace of Crows www.amazon.com/author/tracyshawn
Thank you to the wonderful writer, Michelle Robin La (www.michellerobinla.com), who invited me to be a part of this Writing Process Blog Tour. I so appreciate Michelle, as well as all the other readers and writers I've "met" on Twitter.
Listed below are the general questions and my specific answers for "My Writing Process Blog Tour."
Question: What am I working on?
Answer:  I'm currently working on my second novel about a woman who has just miscarried for the third time and the conflicts that ensue with her husband.
I have to say, though, that I'm spending far too much time promoting my debut novel, The Grace of Crows, right now instead of working on the second one.
Question:  How does my work differ from others of its genre?
Answer:  This is a good question. My work is definitely not as literary as some serious women's fiction, yet it's definitely not "chick-lit" either. I guess you'd call it Contemporary Fiction with a thoughtful tone.
Question:  Why do I write what I do?
Answer:  I write in this genre because I love telling the heroine's journey in which the protagonist struggles—and heals—from some kind of inner torment.
What does this say about me as a writer and person? It says that yes, indeed, I'm another "tormented" artist who uses writing as her own kind of healing process, as well as wanting to reach out and help readers on their own personal journeys.
Question: How does your writing process work?
Answer:  I wish I could say that I hop out of bed and write. But, it doesn't work that way for me. In order to focus, I've found that I need to get most of my stuff "out of the way" first. So I clean house, exercise, and answer emails before I'm clear-headed enough to pound away on my laptop keys.
Also, when I experience the so-called writer's block (which I believe is just a case of "I'm burned-out at the moment spell"), I'll get up to do laundry, make a quick phone call, or fix some green tea. Inevitably, I get the answer I'm looking for and can once again move forward in my work.
As far as the physical aspect of getting words down on paper, I find that when I'm working my nonfiction articles, I work sitting at the desk and referring to my notes and printed-up documents as I write.
When I'm writing fiction, I absolutely love to lounge on the couch with my laptop perched on a pillow as I tap away. I believe this laid-back method enhances my creative flow!
Who is next to blog for May 19th? Below are some bios on amazing authors with links to their websites:
Janet Lucy, MA, is an award-winning writer and poet, and the author of Moon Mother, Moon Daughter ~ Myths and Rituals that Celebrate a Girl's Coming of Age and The Three Sunflowers, a children's book for all ages. Her work has been published in numerous magazines, featured in newspapers and on TV. Janet is the Founder/Director of Women's Creative Network (WCN) in Santa Barbara, California, a consulting business emphasizing intuitive, creative and professional development through writing. Janet offers individual consulting, weekly writing groups, and international writing retreats.
Dr. Greg Marcus is a recovering workaholic who helps the chronically overworked find life balance through his book, public speaking, and personal coaching. Dr. Greg is the author of "Busting Your Corporate Idol: Self-Help for the Chronically Overworked."
For a time Dr. Greg worked 90 hours a week, which impacted his personal health and family relationships. Then, he cut his working hours by a third, and at the same time accelerated his career. The secret? He rejected his corporate idolatry, and started putting people first.
To learn more, please visit Dr. Greg's website idolbuster.com (linked to http://idolbuster.com)
Anoop Ahuja Judge is the author of debut novel The Rummy Club. The Rummy Club is now available on Amazon, in print & in kindle, in your local B&N, and on my website, below.
http://therummyclub-anovel.com/
"Anoop Ahuja Judge shines at scene setting, in both India and the San Francisco Bay Area, with abundant, lush details."   ForeWord Reviews
"This is an honest and compelling portrait of how long-lasting friendships evolve over the years. It's also a story about bad choices, good choices, second chances and forgiveness. A great choice for book clubs!"   Goodreads
(Please note: Ms. Judge will be submitting her blog on May 26th)